Video area
Before you can add a video to your publication you need to upload it to a video hosting provider like Youtube, Vimeo or Vid.me first, videos hosted elsewehere are not supported at the moment. It is also possible to upload a video file as an asset.
To add a video simply copy the YouTube/Vimeo link or embed code in your video area. You can add a poster frame and choose an optional start/end time.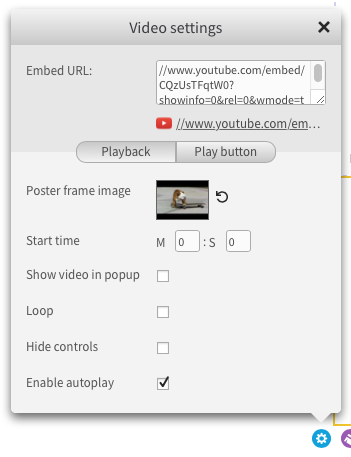 In the publication, the video is displayed as a poster frame image with a play button over it. When the user clicks on it, either the video plays directly or a popup window opens in which the video plays.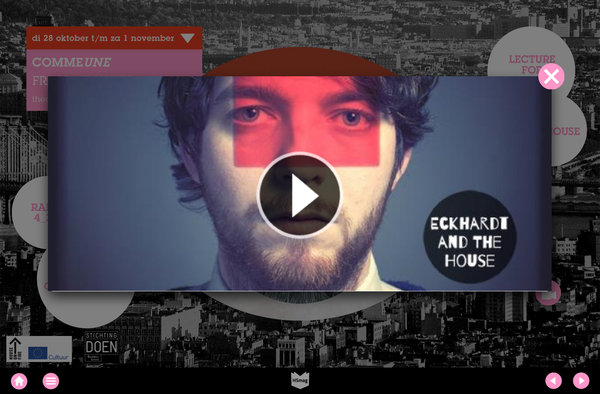 Frequently Asked Questions about Video Usage in H5mag
Can I upload MP4 files within H5mag studio, and not use YouTube/Vimeo?
Although this is possible, we do not recommend it for general use. Video files cannot be larger than 25 Megabytes.
The reason we recommend to use YouTube or Vimeo (Pro) is that serving video to different platforms is quite challenging. When streaming a video, it is important to to take care of for instance the available bandwidth (e.g. when a viewer uses 3G on their phone) and the different supported file formats. It can get complex very soon, and is best left to the video experts.
Can I use another video provider besides YouTube/Vimeo?
Yes. The easiest way is to simply add an iFrame area with the correct embed code, optionally placed in a popup.
I would love to see video provider X in H5mag!
Let us know which one it is and why you'd like to see it in the H5mag Forums and we'll check it out. If it is useful for most of our users we'll add it! :)
Last modified: