Fonts & webfonts
H5mag supports uploading custom webfonts. When you upload a font yourself, be sure that you have the right license for it which allows you to use it on the web. Fonts can be added in the Studio (so not in the Editor!) and you can use them in all of your publications.
You can embed fonts, from for example Google Fonts.
You can add fonts from Adobe Fonts (formerly known as typekit). Create a new font project and copy the project ID in the Studio environment. The fonts automatically get loaded in.
H5mag allows easy integration with fonts.com. Simply create the font pack that you desire, upload it and add the fonts.com tracking code in the webfonts panel.
If you have a TTF font file you will need to convert it to a webfont first. Be sure that your font is correctly licensed before you convert it.
Uploading a font
1) Prepare your font package. You need to upload each font style seperately. For each font style you need a WOFF font file (TTF, EOT and SVG are not necessary anymore since all current browsers support WOFF).
2) Go to the webfonts panel in H5mag Studio.
3) Click on the Add webfont button.

4) Change the Definition Type to Font files.
5) Enter the Font Family Name, choose the Style and Weight and upload the font package.
Done! You can now use the font in all your text and headline areas.
The Webfonts panel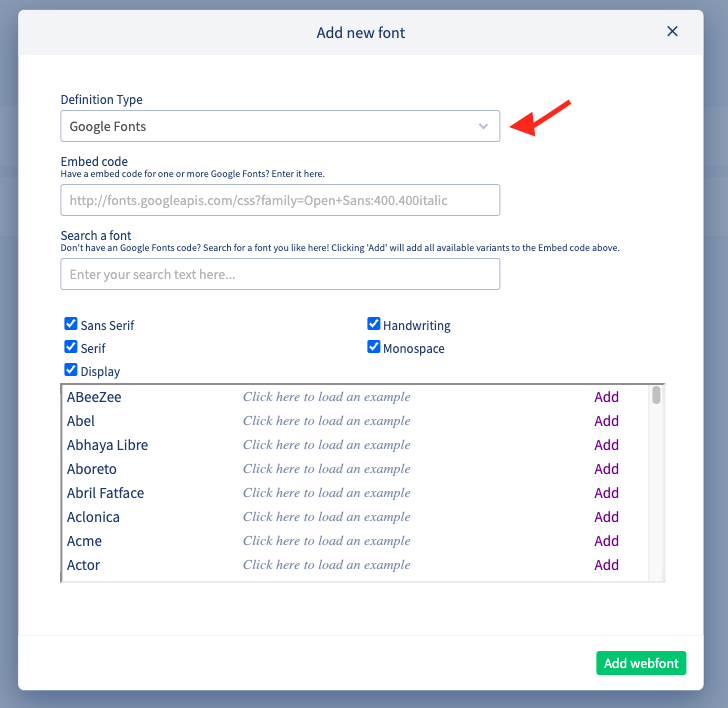 Add a new Google font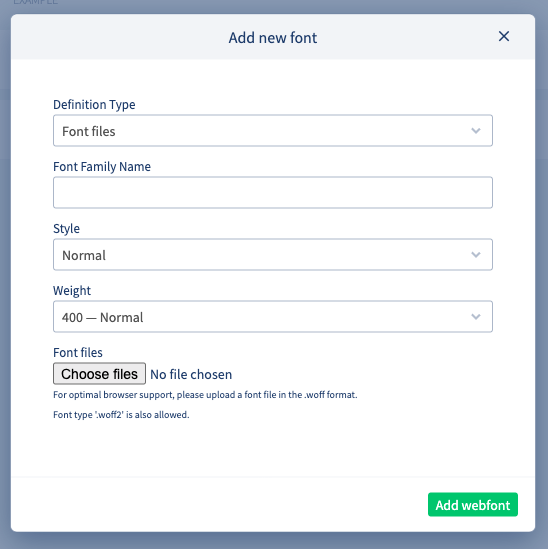 Add a new font from computer
Converting a font to a webfont
If you only have a TTF file and need to create webfonts you can one of several free online web font convertor services, such as Font Squirrel.
At these websites you can upload your (TTF) font files and it will offer you a ZIP file with the approiate web font files which you can upload to H5mag as described above.
Note: some fonts require a separate (paid) license yo use the font as a webfont, even if you convert it yourself, the publisher of the font may not allow you to use it in such a way. You are responsible for obtaining a valid license for your own fonts.
Removing a font
You can remove fonts by clicking on one of them and pressing the Remove font button.
Converting type to outlines
If you only want to use a font just once, like in a special headline on a specific article, it might be more practical to convert the type into outlines in your graphic editor (such as InDesign or Sketch) and export the graphic as an SVG. Be sure to add an alternate text to your image in H5mag so that the content remains accessible and indexable.
Last modified: