The magazine can be used on devices with various resolutions, screen sizes and aspect ratios.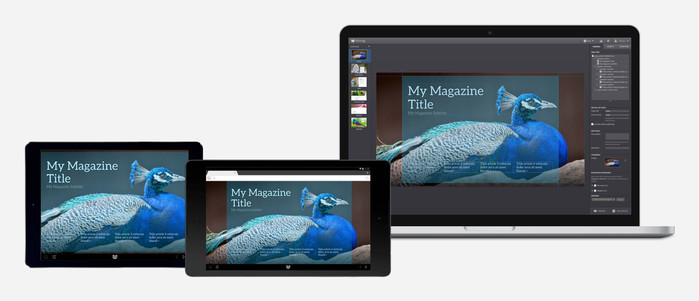 The landscape artboard in the editor and on different devices with the safe area highlighted
The default landscape artboard is 960 pixels wide with a horizontal bleed of 320 pixels. This means that the total artboard width is 1280 pixels, with 160 pixels on the left and right side that may be cropped, depending on the reader's screen aspect ratio.
Bleed view

By clicking on the bleed icon you can quickly view your artboard with or without bleeds. For optimal results make sure that all important content is placed within the bleed margins. The guides also allow you to see where the content safe area is. If you like you can use a keyboard shortcut for this.
Content alignment
You can set the vertical content alignment to top, center (default) or bottom. Use the guides to see how it affects the viewport. (Browser refresh may be required to see the changes)
You can find this under "Settings"

> "Artboards" > "Content Anchor"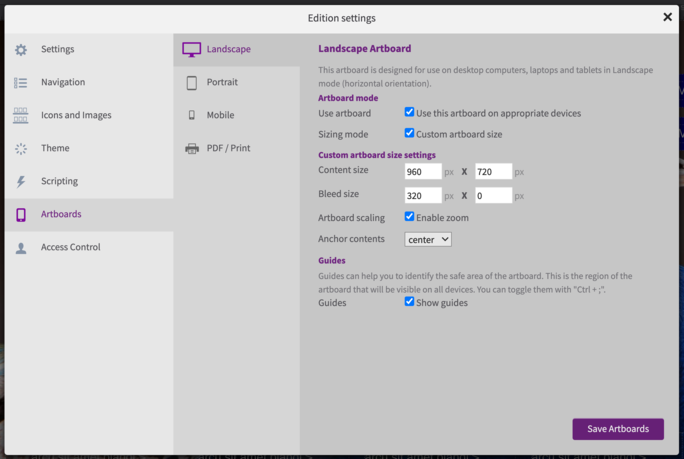 Automatic scaling (zoom)
By default a magazine will grow or shrink to fit the height of the browser window. As a result, the text can become too small too read, or images can become so big that they appear blurry and pixelated.
If you disable zoom, your magazine will always appear pixel precise at 100%. Then, inside a smaller window scrollbars will appear.
HiDPI/Retina support
H5mag can handle high resolution displays that use virtual pixels. For example if you want to support Retina resolutions of an Apple iPad, the device has a hardware resolution of 2048 by 1536, but a virtual resolution of 1024 by 768. Leave the artboard size at 1024 wide, just make sure that you upload assets (images) at a high enough resolution.
PDF / Print settings
H5mag can generate PDFs of your publications. To enable this feature, you will need to enable the PDF / Print artboard by checking the checkmark:

The default page size and orientation is set to A4 in Portrait, but you can select one of the A3, A4, A5, Letter or Legal sizes if you require any of those. Selecting a different size will not reposition the content of your pages, so be careful when changing this on a completed publication.
Last modified: