Creating and editing links
Links are a way to direct a user to related information. These can be internal, so that the user stays in your magazine. Or external, where the user leaves your magazine to visit a webpage.
Creating links from sections or image areas
You can create links from sections or image areas by clicking on the "actions" button (

). A balloon will appear with different options like: "Internal link", "External link" or "E-mail" to make a clickable link.
Internal links will point the user to another article in your magazine. After choosing "Internal link". You will get a dropdown where you can select an article to link to.
External links can point to webpages, downloads or e-mail addressess outside your magazine. These will open in a new window so the reader will have an easy way to go back to your publication.
Don't forget the protocol. External links have to start with http:// or https:// in order to work.
Choose the E-mail action and enter a valid email address. You can also suggest a subject for the email. When a user clicks on the area, it will open the default email applications with a new message window/tab.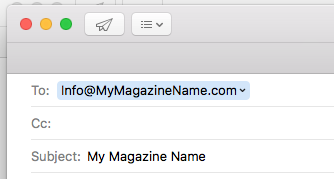 With the Download asset link action, you can point a link directly to an uploaded asset like a Word or PDF file. The asset will be downloaded automatically when the user clicks on the link.
In order to use the Download asset link action, you first need to have at least one asset uploaded.
After you uploaded an asset, set the "action type" to "Download asset". Two options will appear. Here you can select the downloadable asset and an optional titlte for when the user hovers on the link.
Links inside a text area
You can also set certain words in text areas as a link. For more information on how to do this you can read the article on Text Areas
Last modified: