How To Create a Form
This topic is about creating a form and adding it to an edition.
Objectives
After going through this guide, you'll know
How to add different types of question
How to order questions
How to add the form to an edition​
Creating a Form
Click on the "Feedback" button in the top menu
Click on "Create a new form" button, which opens a pop-up
Fill in the name of the form and choose a preferred template, the right side of the pop-up displays a quick preview of the different templates. After filling in a form name and choosing a template, click on continue.
After clicking on continue, you will be redirected to the form creation page, The right side contains a preview of the form. The left side contains all the (form) customization tools and of course all the (possible) answers.

A form must include at least one question, and at least one question should be mandatory.
How To Add Different Types of Questions
To add a question click on the "+" button

To change the question type click on the option field

Select a question type.

Read more about different question types.
Ordering Questions
After adding question you are able to change the order at any time. In the top of every question there are 6 dots, this is the drag handle. Click on the dots to change the order of a question.

Add a Form To an Edition
When you're done creating your form, you will be redirected to the form results page. This page is of course empty, because you've just made the form, which is still not used in any edition.
Go to an edition
Click on the "Add area" icon
Click on Advanced ► Feedback
You can choose a form using the input selector in the area. It's also possible to change the form using the area settings panel. Which can be accessed by clicking the blue gear button.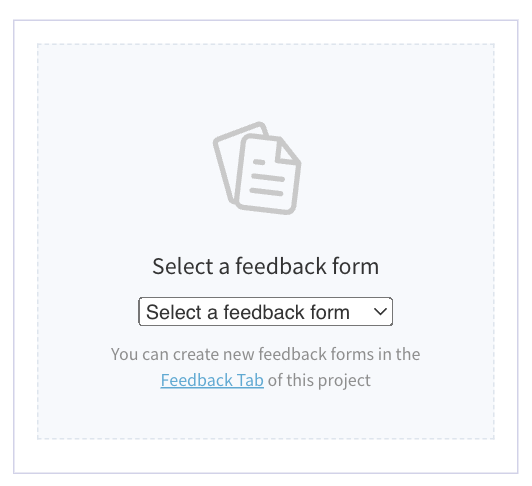 After choosing a form the feedback area should automatically display the selected form. Now you can save the article and preview your changes.
Customize Submit Button Text and Submit Message
You can modify the text displayed on the form's submit button by accessing the settings in two ways:
Click on the 'Settings' button while creating the form.
Click on the 'Settings' button from the form's results page.
This action will open the settings popup, where you can:
Change the submit button text, which is set to "Submit" by default.
Change the submit message that appears after a user submits their response, which is initially set to "Thank you."
Last modified: